Interested in Anderson Lodge for your wedding?
1. Contact Anderson Lodge
We encourage you to call the home office (360 247 6660) or email us your questions. At that time you can request a tour. An appointment is necessary as we reserve privacy for the guests. We can arrange a time that is convenient for you and make sure the lodges are vacant for your tour.
2. Tour Anderson Lodge
We would love to meet you and show you around our wonderful facility. Appointments are necessary so we can meet when we have no bookings. Tours appointments are available mid-week and on weekends. Just give us a call or email us.
View our Wedding photo page, Main Lodge photos or Hilltop House photos.
3. Choose either the Main Lodge or the Hilltop House
When you tour, we will have a packet ready for you. And, we will have a calendar available so you can see what dates are available. The choice is yours!
4. Confirm and book dates
If you are interested in having your wedding at Anderson Lodge, you can call us (360 247 6660) or email us and request a date.
Click above to download a Rental Agreement. If you wish, we can either mail or email this rental agreement to you.
Don't forget, you can download our FLOOR PLANS which are helpful in room assignments for guests.
6. Send Rental Agreement and Initial Deposit
Once you have contacted us to confirm a date, you must send in the agreement & the initial deposit. You may scan, email, mail or fax the agreement. (fax: 360 247 6661)
You have 7 days to send the agreement and deposit
Deposit amount varies with package chosen

See

package prices

for deposit amounts

All reservation deposits are non-refundable, no exceptions
Any payments made toward your wedding package are non-refundable.
We will block in your date/s once you have sent in the agreement and deposit
You may pay with a check, Visa or MasterCard
Note: After you have rented for your event, you are welcome to give us a call and come up to do your measuring, planning and take photos. Just give us a call to arrange your visit.
7. Send Confirmation Deposit
The confirmation deposit is due 1/2 way between your booking date and check-in date.
The confirmation deposit due date will be on your statement.
The deposit amount is the same dollar amount as your initial deposit
All reservation deposits are non-refundable, with no exceptions.
Any payments made toward your wedding package are non-refundable.
You may pay with a check, Visa or MasterCard
Once you have paid the confirmation deposit your booking is complete.
8. Event/Liability Insurance
EVENT/LIABILITY INSURANCE
This would be a good time to research and obtain the Liability Insurance for your event.
Usually clients obtain Liability Insurance from WedSure. With WedSure it's one easy step and you have excellent coverage for your entire stay. WedSure states: "For as little as $95 your rehearsal, rehearsal dinner, wedding and reception can be covered under one Wedding Insurance policy." Great coverage and minimal price.
Policies must cover your entire stay. Start date should be your arrival date. Ending date should be your departure date. Include the rehearsal dinner, rehearsal, wedding and reception if you are a 2-night rental, and Wedding and reception if you are a 1-night rental
$1.000.000 liability coverage for property damage and bodily injury
is required. ($500,000 coverage is not acceptable)
Host Liquor Liability coverage is required.
Anderson Lodge must be listed as additional insured
Your venue address must be listed on the policy as additional insured.
Please confirm that your agent will send the Proof of Insurance to us once it is purchased.
WE DO NOT ACCEPT HOME OWNER'S POLICIES.
WE ACCEPT EVENT SPECIFIC POLICIES ONLY
9. Final Payment
FINAL DETAILS ARE DUE 20 DAYS PRIOR TO YOUR CHECK-IN
You must provide us with an accurate count of all bedding needed or any other services that you have requested

20 days

prior to your event. If you have bedding requests, please identify the number of double bedding sets and the number of twin bedding sets you need.
Damage/Service Deposit: A $500 Damage/Service Deposit will be added to your final bill. This deposit is fully refundable. It is used to pay for any damages that may occur or any services that are requested at the last minute. If the Departure Checklist is not completed there will be deductions taken from this deposit. Refunds from the deposit are sent at the end of every month.
Proof of Event Liability Insurance is due

20 days

prior to your arrival.
Final payments and damage/service deposit is due

14 days

prior to the date of arrival to Anderson Lodge.
Certified cashier's checks are required for any payments made

within

14 days of your arrival
No admittance to the site until your final payment, your damage/service deposit and your proof of insurance has been submitted.
10. Check In/Check out
CHECK IN
ONE NIGHT RENTAL- Standard Check in: 2:00 PM
*If schedule allows, Early entry MAY be granted at 12:00 PM (NO COST)
*If schedule allows, Extended early entry is $100/hr before 12:00 PM
TWO OF MORE NIGHT RENTAL – Standard Check in 4:00 PM
*If schedule allows, Early entry MAY be granted at 2:00 PM (NO COST)
*If schedule allows, Extended early entry is $100/hr before 2:00 PM
Contact Lodge office to request early entry or an extended early entry.
All early arrival cannot be confirmed until 30 days prior to your check in date.
Check in Procedure
You will be required to have at least one contact person present upon check in to receive an Anderson Lodge rental packet and sign documents.
This contact person must be the first person on the property.
Do not have guests arrive prior to your check-in.
Arrival times must be confirmed with the home office.
CHECK OUT:
Standard Check out 10 AM
*If schedule allows Late Check-out may be granted at 12:00 PM (NO COST) This option must be arranged 20 days prior to your check in date.
DEPARTURE CHECKLIST:
You are required to complete a DEPARTURE CHECKLIST before your checkout time. The departure tasks are mainly "put back" tasks, making sure the lodge is back the way you found it. The checklist is divided into 5 sections: Outdoor, Trash Guest rooms/cabins, Furniture, and Kitchens. Please choose a 6-person "check out crew" to complete the checklist. It is best to identify this crew prior to your check-in. 
*NOTE: Early entry, extended early entry or late check out may be confirmed 30 days in advance, no earlier.
Be sure to check our our Links for special events. Here you can find links to vendors that clients have used and recommended. Find a florist, band, photographer or even a ceremony officiant! These folks have all had rave reviews from past clients.
Event Restrictions:
*Non-compliance of the following event restrictions will result in the loss of the $500 deposit in full, plus any damages.
NEVER EVER move the conference room furniture (couches, upholstered chairs) OUT of the conference room at ANY TIME!
The use of silly string, sky lanterns, confetti, imitation flowers, glitter, rice, or scattered decorative ornamentation is

strictly prohibited.

No tape or tacks may be used on the walls of any room.
Candles must be in fire-proof containers. Containers must exceed the height of the flame by 2 inches.
If your reception is using beer kegs, place them on the cement only.
Bring all wine, beer and liquor bottles back with you to dispose of. Do not put them in the trash.
NEVER leave standing water on laminate flooring. Water damages hardwood and laminate flooring
Absolutely NO tents, air mattresses, cars, dance floors, tarps, tables or other such items on the wedding sites (gazebo or view site) at the Hilltop House
Hilltop House: Please do not drive up to the storage house by the gazebo by way of the wedding path area. You may drive around back (north side) to load chairs in a vehicle and get close to the storage house.
Do not move piano in Hilltop or Main Lodge conference room, even a little bit!  There are wheels on the base of the pianos but they are for tuning only. Pianos are very delicate and moving them slightly means they get out of tune or they can get damaged.
Main Lodge: ALWAYS leave a fire lane open in the driveway and through the turn-around by the Main Lodge. Park by tennis courts and reception parking in field.
Please reduce the volume of amplified music and celebration of your guests at 10 pm and move the party inside the buildings. Our neighbors would appreciate it.
Frequently Asked Questions is a helpful page for the planning of a wedding or event. If you don't see your question covered, email us the question. We update this page often.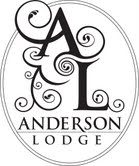 Anderson Lodge
Where natural beauty is the icing on the cake!