The Main Lodge
Welcome!  The Main Lodge is our largest facility.  It is located on 16 acres and is noted for its picturesque lush forest.  The log archways and oak hardwood floors and counters make the interior space comfortable and inviting. We offer small and large group meeting rooms and plenty of recreational opportunities.
There are many reasons why guests choose the Main Lodge for their event.  See all what we have to offer!
Well stocked kitchens with commercial appliances

China and flatware provided

Sun room dining room

Large group and small group meeting spaces

Variety of accommodations

Lodge and cabins provide private guest rooms, family rooms and dorm style rooms

The carpeted conference room with log beam structure

Anna's Reception Pavilion with laminate flooring and charming parlor stove

Piano

Tiled sunroom for dining

Game Room with 2 ping pong tables & foosball

The spacious bathhouse – Men/Women facilities plus saunas

Covered campfire amphitheater – With a stage for skits, presentations & musicians!

Children's wood play structure

Pippi's Playhouse

Outdoor recreation

Tennis Courts

Raised terrace wedding site in the trees

Stockholm Outdoor Beverage Bar

Cozy Dalarna Cabin

Hiking Trails

Wireless Internet

Outdoor dining in the forest on wonderful stone patios

Outdoor BBQ Grill Station
A glassed-in sunroom sweeps the back of the lodge and here one can enjoy the wonderful forest setting.   The sunroom has Tuscan tile flooring and makes a very attractive space in which to dine.  It can also be used for a meeting space for any kind of group.
The log-framed conference room is fully carpeted, perfect for dining or group gatherings.  There are couches, with a TV/DVD, and conference tables in the room.  In one corner there is a wood stove and bench seating for relaxation and conversation.   With our piano at the Main lodge, be ready for some great sing-a-longs. Or, grab a guitar and head down to the campfire amphitheater for some great group shenanigans!
NEW!  We gave the conference room at the Main Lodge a new look!  There is new carpet, new ceiling fans and lighting and new furniture.  It looks fabulous. It is ready for your next celebration!
In addition, there is another conference room we call Anna's Reception Pavilion, named after our dear cousin in Sweden. With laminate flooring and a distinctive parlor stove, this room is very versatile. There are so many picture windows in the pavilion that it seems like you are outdoors.  
Many weddings have taken place at Anderson Lodge. Our spacious conference room and the reception pavilion are perfect for a reception or family gathering. Anniversary parties and festive birthday parties are popular events as well. We offer a special reception rate package for such gatherings. The possibilities are endless. Check us out for your next important celebration.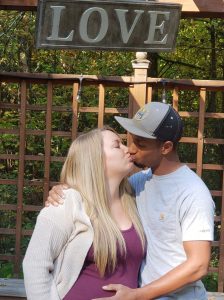 Lodging
The lodge's interior immediately catches the attention of every visitor. Hints of old Sweden enhance the warm and welcome atmosphere and represent a collection of family heirlooms.  The open beam ceilings and log pillars create a true lodge-like feeling.
The Main Lodge with the Malung Bunkhouse and Dalarna Cabin makes up our largest rental facility. Groups enjoy the quality accommodations well suited for groups ranging from 20-60 overnight guests and more! There are 43 single beds and 12 double beds within the Main Lodge site.  We have private rooms, family rooms, dorm-style rooms and cabins.  We welcome tent campers and RV with no extra charge.
The Dalarna cabin is on the Main Lodge site. This charming cabin is nestled in the trees and offers privacy for a family or couple. Within the cabin there are 4 double beds, kitchen, dining nook, wood stove and bathroom.  A private gazebo with porch swing is connected to the cabin and provides a secluded spot for guests.
Outdoor Setting
Visitors enjoy on-site activities such as tennis, softball, soccer, horseshoes, volleyball, and basketball.  We also offer 2 saunas for the adults and a wonderful play structure for the children.  The covered outdoor campfire amphitheater is wonderful for many events. It has a campfire in the center with a stage at one end. The bench seating in a semi-circle can hold 75 or more people! What fun this is on an outing for any purpose.   You are never at a loss for ways to enjoy your stay at the lodge.
The newly created dining patios are something to see.  The curving rock walls extend gracefully into the lush forest.  The outdoor dining patios have a view of giant ferns and Douglas fir trees dripping with moss. Everywhere you look you are impressed with the lush natural surroundings.  Winter and summer, the lodge has many opportunities for groups to get away and relax in comfort.