Family Reunions
Portland, Vancouver, Longview, Olympia and Seattle Families…..
We would LOVE to host your Washington family reunion!
Welcome to Anderson Lodge, the Scandinavian retreat center! As a family-owned and managed business, our comfortable, homey atmosphere is apparent.  We treat you special!  And, you will enjoy the unique Swedish flair in all our facilities. Anderson Lodge is a quality retreat site offering a unique gathering site in a natural forest setting.  Anderson Lodge is a  location for private, invitation-only events.
What makes us special is our welcoming atmosphere, on-site recreation, cozy areas for families to gather, personal service and our one-group-at-a-time policy. Of course, the natural beauty surrounding the lodge is the number one attraction. Anderson Lodge is the ultimate family reunion location. Come see us and you will be saying the same thing!
Anderson Lodge takes the health and safety of our guests in the midst of the threat of COVID-19 very seriously. We provide hand-washing areas, hand-sanitizing stations, and disinfecting products for you during your stay.
While Anderson Lodge's regular cleaning regimens are rigorous, we have put additional practices in place during this time of COVID-19 Our cleaning staff has increased the frequency of cleaning common spaces and added sanitizing stations for your safety. Within 2 hours of your check-in, our cleaning staff will be sanitizing commonly touched surfaces, guest rooms, and bathrooms. Our staff will be thoroughly cleaning and disinfecting the Lodge after your stay.
What does a family reunion look like at Anderson Lodge?
Day one your group arrives, whether it is mid-week or weekend. You have a nice dinner, or potluck, spaghetti feed or whatever you desire. Everyone stays the night after a late-night conversation, pinochle, talent show, or a great movie.  It's like the Walton's, you say good night and stay in the same big house or guest cabins!
Day two, you probably rise with the smell of bacon and fresh coffee.   One by one, campers get up and have a leisurely morning catching up on the latest family news.  More people arrive to take part in the fun.  Besides the accommodations at the lodge, attendees may bring their RV's and stay on-site, others can camp in tents if they wish.  The morning can be devoted to family projects, genealogy, picto-quilts or a field trip to the Ape Caves for example. After roasted hot dog or sub sandwich smorgasbord, the group can break into small groups for the Family Olympics! Teams can be challenged with horseshoes, ping-pong, volleyball, basketball, tennis, and scavenger hunts.  Our family always has to have that annual family volleyball championship.  The opportunities are endless.   A cluster of cooks can gather in the kitchens cooking up a storm, creating a Mexican Feast or super BBQ.
Many times, one evening is devoted to campfire activities in our outdoor amphitheater.  And the best part… even if the weather isn't terrific, the area has a roof over it so the fun can continue.  The whole experience of activities by a campfire is magical with the fir trees all around and the flicker of the fire. There is a stage at one end so be ready for some innovative skits and lots of laughter. It will seat 75 or more people and guarantees the best s'mores known to man!
The summer season often has a burn ban in effect for the county. There is often a burn ban in Cowlitz County from June 30-September 30. If there is a burn ban in effect for your event, firewood will not be allowed in our campfire rings. Firewood sparks when it burns, sending embers up and out to the surrounding forest. Most of the time, you may use charcoal only in the campfire. You may lose the ambiance of a roaring fire but you do get a better-roasted marshmallow!  Please follow our campfire safety rules for all campfires.
PLEASE FOLLOW THE FOLLOWING SAFETY RULES REGARDING CAMPFIRES
Fire must be in fire ring only. (No portable fire rings are allowed)
Hook up hose and have it near to fire. Use if necessary and to douse fire.
Never tear branches from trees to make sticks for roasting
Never, never leave a fire unattended. An adult must always be present
Never allow children to play in fire.
Douse fire thoroughly after use. Make sure it is cool to touch before leaving the area.
Check back 30 min later. Must be cool to touch
Another option is to gather together in the conference room or the pavilion for a fun night of DVDs, karaoke, sing-a-longs, skits or a family auction.  Some groups bring handmade craft items to auction off each year.  Then they use the proceeds for a deposit on the next year's reunion.  Another option for a reunion is that all-important "Legacy Night". Each branch of the family creates a table to display photos, heirlooms, recipes, etc. from their family. All is shared with everyone. You can even set up a printer to copy those special recipes! Whatever your choice for entertainment, it is enhanced by the many attractive spaces and the outdoor nature at the lodge.
Day three brings a breakfast buffet and wrap up. Large group presentations and awards can be the culminating activity. You pack up and go home. Imagine the conversations back at home or on Facebook about how wonderful the reunion was, how great it was to get together, and see all the relatives and the gratefulness to you for such a successful occasion!
This example is a 2-day plan, however, many reunions make the event last several days.  YOU make the plan and YOU decide how to customize your stay to fit your needs.
What really makes us special is the personal attention we give to all our guests. And, the natural beauty surrounding the lodge is so conducive to relaxing and rejuvenating the soul. Our lodges offer such a unique venue to gather and connect with family and friends  You can truly make this reunion one that reflects your family traditions.  Let Anderson Lodge make your event a unique and extraordinary one!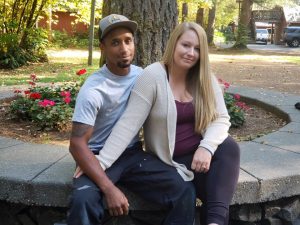 We rent on a reservation basis only. We are open all year round. Each season offers its own unique advantage.  Most all our family reunions have chosen mid-week dates rather than weekends, in the summer.  There are definite benefits mid-week if you wish to take advantage of the recreational sites in the area.  Weekends are very crowded at our lakes for instance.  Other popular spots like the Ape Caves often have many, many visitors on the weekends.  Our price list offers seasonal rates and special mid-week rates. Contact our home office to make reservations. Visitations are arranged by appointment only.  Don't forget to check out our FAQ page for details about renting Anderson Lodge and our LINKS page to see what sites of interest we have in the area.
We have so much to offer:
• Accommodations in a variety of sleeping arrangements
• Small group meeting rooms
• Two large group conference rooms
• Ample bathroom facilities
• Wonderful stone patios with spectacular views
• Large kitchens with commercial appliances
• BBQ's available
• Outdoor recreation
  Outdoor Beverage Bars
• Children's play structure
• Pippi's Playhouse for children
• Covered Campfire Amphitheater
• Game rooms
• Tennis Courts
• Hiking Trails
• Guest Cabins
• Lush forest setting
• Wireless Internet

PLEASE NOTE:
Anderson Lodge provides one cart of firewood. Please bring additional camp wood if you anticipate needing more. If there is a "charcoal only" rule for campfires, you are to provide charcoal for use in our campfire amphitheaters. It is imperative that you follow all our safety rules when using a campfire. (see rules above)
Summer brings warm weather and little rain. We love our forests and want to make sure they are around for a long time. Each summer, burn bans are in effect for the area. It is common for a burn ban to be in effect for July, August and September. Please follow these mandates.
Meals
You may choose to self-cater, choose our preferred caterer or bring in an outside caterer.   
For Retreats:
We charge a  $50/day kitchen fee.  If you self-cater this is the only fee you pay.
If you choose our preferred caterer,
$50 Kitchen Fee WAIVED for any day/s a preferred caterer provides meals.
Ÿ$50 Kitchen Fee WILL APPLY to any day/s without a preferred caterer.
If you choose to have an outside caterer the $50/day kitchen fee applies and there is a $90 outside caterer kitchen fee. (one time fee)
The kitchens are well equipped and the indoor and outdoor dining areas are large enough for your whole group. When you visit either the Main Lodge or the Hilltop House you will be absolutely amazed at the outdoor dining areas with spectacular views. Groups renting in warmer weather often can be seen at the barbecue or roasting hot dogs in the outdoor amphitheater.
Activities
Both facilities have game rooms. The Main Lodge game room has 2 ping pong tables and a foosball table. The Hilltop House game room has a pool table, ping pong table and a foosball table. We also have pianos and TVs with DVD players.  The Main Lodge has 2 saunas that are for group use. Please note, sauna use may be restricted due to COVID regulations. We even have wireless internet at both the Main Lodge and the Hilltop House.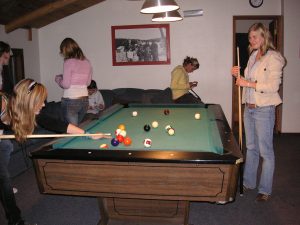 A children's play yard and Pippi's Playhouse can be found at both the Main Lodge and the Hilltop House. We ask that you monitor the area at all times. Children 10 years old and younger may use these play areas.
Anderson Lodge is located on over 90 acres of forest land. There are hiking trails throughout the area. In addition to hiking, we have softball and soccer fields, children's play areas, horseshoe pits and volleyball and badminton areas. Our son would never forgive us if we did not have a basketball hoop! The tennis courts are another popular spot for many lodge guests. The opportunities for fun are endless!
Our spacious pavilions surrounded by forest, seat over 100 people and are perfect for large group experiences. The outdoor patios overlook the natural beauty of the forest and valley that we are so known for. You just have to come up and see how spectacular the setting is at Anderson Lodge.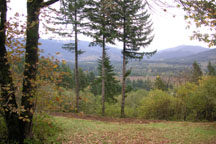 Often, our guests take small trips to activities in the area.  Don't miss our page describing some of the area attractions on our LINKS page.  Our beautiful Yale Valley has so much to offer!
Nearby attractions:
Mt. St. Helens
Pomeroy House and Living History Farm
Lewis River Golf
Lelooska Foundation and Native American Cultural Center and museum
Sunset Falls
Speelyai Fish Hatchery and Recreation Area
Lahar Mudflows of Mt. St. Helens
Ape Caves
Hulda Kager Lilac Farms
Cedar Creek Grist Mill
Merwin Lake
Yale Reservoir
North Clark County Museum
∗ Don't miss the Ape Caves.  A wonderful outing for the young and … not-so-young!
Meeting Options
Many times reunions and business retreats require both large and small group meeting areas. You will find our conference rooms and our pavilions ideal for large group presentations. Conference rooms are fully carpeted, equipped with conference tables, wireless internet and plenty of space. There are many options for break out sessions for smaller groups. We only rent to one group at a time so you are not competing with any other group for a particular room. Of course, all our facilities have pianos and guitars to further enrich your experience.
Just Like Home
No matter where you are, you will be immediately impressed with the fine attention to detail and quality craftsmanship of Anderson Lodge. You will be amazed at the beautiful woodworking at all the facilities. We strive to make Anderson Lodge have a comforting, home-like atmosphere. We hope guests feel at ease and free from the interruptions of our busy lives. The gracious homespun surroundings allow for interactions and togetherness that make reunions so memorable.
Just a short distance from the Lodge, across from the Volleyball court you will find our very special "All in the Family" birdhouses. Each house represents one of our children and their family. Family is what Anderson Lodge is all about. Cherish everyone. Flock together and make memories at Anderson Lodge.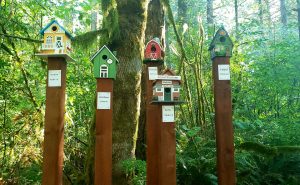 What kinds of retreats are held at Anderson Lodge? We are very popular for school student and staff retreats, language camps, science or geology workshops, peer counseling trainings, and business training groups. OSU Choir has chosen Anderson Lodge for their annual choir retreat.  High school bands and orchestras find the Lodge perfect for their gatherings. Whether it is a student group or an adult group, your event at Anderson Lodge is bound to be a success! There's nothing like the experience of a reunion to fill your family with connections to help them become closer.
Pricing
The Andersons offer special PRICING for reunions October – May.
We have 2 pricing schedules for Reunions: Retreat pricing and Wedding pricing.
For retreat pricing, you are charged a per person rate for your guests.  Retreat pricing would apply from October – June 15. Summer mid-week days are also Retreat pricing.  Guests just coming up for the day, say for a big dinner or BBQ commemorating the occasion, would be charged as an overnight guest.  All weekend rentals in the summer season are charged wedding package pricing. We rent to one group at a time so you hace the whole property all for you and your attendees.
For wedding pricing, you also have exclusive use to the whole property.  All weekend rentals, retreats and reunions, in the summer season are charged wedding pricing. Since we do not count guests for wedding pricing, you can have as many guests as you wish up to 200 people for day use.  (Please limit your guests to 150 people or less) You can have as many people as you are comfortable with spending the night but remember we have a set number of beds on the property. Generally, the Main Lodge has overnight accommodations for approximately 70 people so contact us if you are planning more than 70 guests overnight. The Hilltop House site can accommodate about 40 overnight guests. Again, contact us if you are planning more than 40 overnight guests. Both facilities have space for RV's and tent campers.
In the summer season, our reunions and retreats often take place on mid-week days. This allows our guests to fully take advantage of the local area recreation. The Lodge is located in the midst of 10 miles of lakes; full of recreational possibilities. Sunday – Thursday, these areas are less populated and well worth the trip. The closest is Speelyai Fish Hatchery and Recreation area which is 2 miles west of Anderson Lodge. Here you will find a swimming, fishing and picnicking area and a boat launch. This is a popular outing for all our guests.
Lewis River Golf Course is 10 miles from the lodge and many groups incorporate this into their retreat schedule. Don't forget the Lelooska Native American Cultural Center is just a few minutes away. If you are interested in attending a show, find their website address in our "LINKS" section. We are also close to the Mt. St. Helens National Monument. Hiking in the Ape Caves is one of our favorite activities. Winter groups often take time out to play in the snow on Mt. St. Helens.  Oh, and check out the scenic waterfalls that are close to Anderson Lodge.  No matter what the season, the natural setting and homey atmosphere at Anderson Lodge will enhance any reunion!
Be sure to check out our FAQ page.  
These are Wedding FAQ's but many apply to family reunions as well.
Be sure to check out our RESERVATIONS page to see how easy it is to reserve a space for your next family reunion.
Give us a call today and make an appointment for a tour. We'll put on the coffee and meet you up there!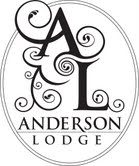 Anderson Lodge: Where natural beauty is the icing on the cake!