Weddings at Anderson Lodge
Welcome to our Portland, Oregon, Vancouver, Washington and Pacific Northwest visitors.
We would LOVE to host your wedding!
At Anderson Lodge we are known for our cozy atmosphere and lush forest setting. Weddings are truly the most memoriable celebrations of one's life. One couple had these reflective words: "We had SUCH a special time there with friends and family, and I know our guests did too.  The main lodge was the perfect place to celebrate together.  As we reflect back, words that come to mind are: beautiful, cozy, magical, lush, green, tranquil, lively, community, joyful, and love-filled.  Thanks so much for the months of emailing back and forth, phone calls, and site visits to help us get prepared!"
Welcome to Anderson Lodge!
While Anderson Lodge's regular cleaning regimens are rigorous, we have put additional practices in place during this time of COVID-19 Our cleaning staff has increased the frequency of cleaning common spaces and added sanitizing stations for your safety. Within 2 hours of your check-in, our cleaning staff will be sanitizing commonly touched surfaces, guest rooms, and bathrooms. Our staff will be thoroughly cleaning and disinfecting the Lodge after your stay.
Anderson Lodge is a remarkable facility offering a lodging and wedding/reception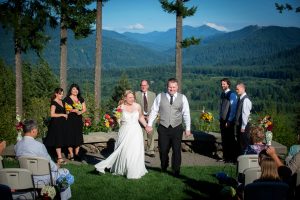 site all in one! The weddings and wedding receptions that take place at Anderson Lodge are unique and memorable.  The traditional wedding and reception is 4-6 hour affair with family and friends gathering only for the event.  Many times the bridal couple circles the room hoping to greet everyone and thank them for coming. This is not ideal. Weddings at Anderson Lodge take place over 2 days or several days.  You have quality time to spend with your favorite people. We believe the beautiful natural setting surrounding the lodge is the number one attraction and encourages meaningful connections with your guests. Anderson Lodge welcomes all couples wishing to marry.
You have the opportunity to create a wedding experience that is truly representative of the couple and their individuality.  Celtic Wedding? Vintage Wedding? Rustic Wedding? Create your wedding to capture your story. Whether your ceremony and reception take place at the Main Lodge or the Hilltop House, your event will be a success and filled with memories.  Dine on our picturesque patios with your guests and dance into the evening hours. Or for winter weddings, celebrate in our spacious conference rooms. You owe it to yourself and your family to discover all that Anderson Lodge has to offer.
Let's hear from a recent wedding couple:
"We are almost at a loss for words to express our gratitude for this past weekend and all those who helped us get there! Thank you all so much for allowing us into your venue and providing the most perfect setting for our wedding.

From the view to the dance floor to the ability to celebrate with our friends all weekend- we really couldn't have asked for a better space! We have been getting so many compliments on the venue, it truly is perfection."
Another recent bride reflection:
"Had our wedding this past weekend at the Hilltop House. It was perfect from beginning to end because it was so lovely to spend such quality time with our family & friends. As a bride to other brides I suggest spending the weekend, not just the day, because I woke up with a beautiful view which helped settle nerves, then through out the day peeking at guests spending time getting to know each other. I couldn't have asked for a better ceremony, amazing accommodations, and the special time with every one we never would have had anywhere else. Thank you for building the most beautiful place in our world!"
One more couple wrote:
"We had our wedding here in August. It was so beautiful words can't describe it. Gave the perfect place for  our  families to meet and mingle for not only the wedding and reception but from Tuesday to Friday! Anderson  Lodge is a great place to go if you're looking for an off-beat wedding location where people can relax and find the beauty of the northwest…. our guests are still talking about it!"
The usual concept of a wedding is limited to an afternoon. Here at Anderson Lodge, weddings take place over 1 day or several days. This allows your family and friends to be more a part of this wonderful event! With a traditional plan, wedding couples become frustrated having to greet and talk to relatives and friends who have traveled at great lengths, all within the short amount of time allotted at most reception locations. Frequent comments are, "The reception was such a blur. It was over before I could talk to everyone."
Devoting more time to your event makes for such an amazing experience. Packages include one day and two-day options.  The "Weekend Wedding Package" is very popular, where you arrive on Friday afternoon and leave Sunday morning. Many choose a "Sunday Plus Package", the 2-day option from Saturday afternoon – Monday morning with a Sunday wedding. Quite a few of our couples want an even more leisurely experience and add a day to the 2-day package. Mid-week weddings are very special too. With our wedding packages, you have the chance to choose from many possibilities for your special day.
For example, Friday is check-in.  You and your wedding party, close friends, parents, etc. arrive.  Dinner, rehearsals, video times, decorating are just a few options. This allows you to settle in and have a quiet time together prior to the big event.
Saturday, the major set-up and decorating can take place and the families are together and so much a part of the occasion.  Vendors arrive with cakes & flowers and your photographer is capturing it all. In the afternoon, the ceremony can take place with the reception following. If you so wish, guests can stay the night not forcing them to drive after the celebration. We offer private rooms, family rooms and cabins. Accommodations vary with the facility you chose.
Sunday offers a leisurely morning, perhaps coffee and pastry and a chance for goodbyes.
Now, this weekend wedding design is only an example. But it shows how the wedding experience can be turned into a meaningful, memorable occasion, by not limiting it to just a 6-hour generic event.  Whether you want a 1-day package or a package with multiple days, we can accommodate. Celebrations are welcome at any time of the year. We have seasonal pricing for our wedding packages as well as special pricing for mid-week events.  We are delighted to welcome all couples wishing to marry.
These are just a few of the amenities our lodge has to offer.
Please view all the information for Weddings at Anderson Lodge:
Ceremony Options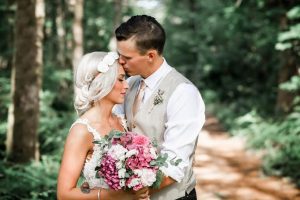 Couples may choose either our Main Lodge or our Hilltop House for their celebration.   Both facilities are equal in the amenities that they offer.  Taking a tour of the Main Lodge and Hilltop House is the only way to assess which facility YOU like the best. We are pleased to welcome all couples who wish to marry.
In warmer months outdoor weddings are ideal with the natural beauty that surrounds our facility.  With outdoor patios and decks, your reception guests wander freely with so many options for dining or socializing.  If the weather turns cool, you have the 2 conference rooms to entertain your guests. There is nothing more magical than celebrating in the natural beauty of Anderson Lodge.
We are open all year long.  Fall, Spring and Winter weddings are very popular as well.  Every season has its own beauty which is evident at Anderson Lodge.  One can have a dramatic ceremony in our carpeted conference room or the spectacular pavilion.  Receptions are warm and cozy with the captivating natural setting all around.  Some of our most beautiful weddings have been in the winter!
A recent bride commented:
This is such a beautiful location out in the woods, and you get the extra benefit of having the whole place to yourselves (there is a caretaker nearby to come and help as needed). We had a blast and my family is already talking about coming back for a reunion!
What we provide:
Guest rooms and cabins for family and friends
Spectacular outdoor wedding sites
Carpeted conference room with beautiful Log beam structure (Main Lodge)
Carpeted conference room with baby grand piano & impressive rock fireplace  (Hilltop)
Reception Pavilion with laminate flooring (both Main Lodge and Hilltop House)
Outdoor Beverage Bars at both facilities
Amazing outdoor patios with bistro tables and chairs
Access to  125 -150 indoor chairs, 125-150 outdoor chairs
Rectangular buffet tables and conference round dining tables for your event.
China and flatware for  125+ people
Complete access to our commercial kitchens is a part of all wedding packages.
Wireless Internet
Game rooms & outdoor recreation
Exclusive Access to the whole site
Space for RV's and tents
Incredible natural setting
Ample parking
Receptions:
Although we do not have catering as a part of our wedding packages, you have the following options:
SELF-CATER: You may prepare and provide your main event meal with volunteers from your family. With this option, there are no purchases of prepared food and no money is paid to others to provide your meal service.
PREFERRED CATERER:  You may utilize our preferred caterer for your main event meal. They also may provide other meals during your stay as well. She is delightful to work with and her dishes are so beautifully presented and delicious.
Our preferred caterer is Cindy Blixt of Five Star Catering
OUTSIDE CATERER:   You may utilize an outside caterer. Purchasing prepared dishes from a restaurant or caterer is also considered outside catering. There is an additional fee for an outside caterer.
PLEASE NOTE: Approval is needed if you plan to use a food truck or mobile catering service of any kind. Please contact the office if this is a part of your plan. The food truck or catering service must have their own insurance and service cannot damage the property in any way.  Be sure to find out what power is needed to operate their services and where on the property they will set up.
Many of our wedding couples have outside vendors such as photographers, florists, DJs, musicians, or wedding cake specialists as a part of their wedding plan. We can recommend a great wedding planner and a fabulous bartender if you are interested.  Check out the LINKS page of our website for other recommendations for vendors.  Others choose to have family members provide their services.  It is all up to YOU!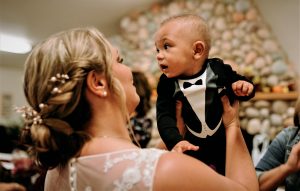 The picturesque dining patios have bistro tables and chairs seating 125 people or more for your reception.  Packages include exclusive use of the property for small groups and large groups.   Please limit your guest list to 150 people or less. Wireless Internet is available. There is ample parking and both indoor and outdoor dining.  With every Anderson Lodge wedding rental we provide a picturesque outdoor wedding site, fully carpeted conference room, reception pavilion with laminate flooring and of course, lodging for you and your guests.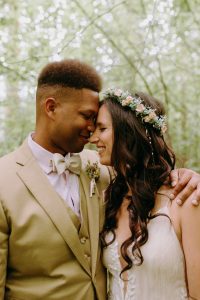 Main Lodge
The picturesque garden terrace surrounded by a rock wall and a series of arbors makes an unbelievable outdoor wedding site.  (pictures above)
The landscaped pathway leading to the wedding circle is perfect.
The 1600 sq. ft. conference room provides an attractive space for the ceremony and/or reception.  This room also covers "plan B" when the weather does not permit outdoor weddings.  The large windows open to the forest and trees surrounding the lodge.
Wait until you see Anna's Pavilion. This spacious reception pavilion offers a fantastic space for your guests to eat, dance, and celebrate!
Outdoor dining patios further enhance the dining for your event. Imagine fir trees with moss covering the branches like velvet and the forest floor blanketed with massive ferns.  The patios are nestled in the forest creating a woodsy wedding setting. That is the view from our outdoor dining patios (pictured above)
Hilltop House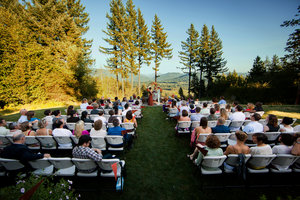 The Hilltop House is most notable for its spectacular view and is popular for outdoor and indoor weddings as well.  You are at the top of a hill with a view of the valley and mountains.  You have over 75 acres to yourself.
The panoramic view of the Hilltop Wedding Circle is truly impressive (Pictured above)
The sleeping house and 3 cabins provide a total of 15 double beds and 12 single beds plus 1 futon.
A charming gazebo lies in the midst of the apple orchard and is perfect for wedding ceremonies, photo shoots or reception festivities.
Also at the Hilltop, is Ulla's Reception Pavilion, with laminate flooring suitable for dancing & celebrations.
The grand Conference room provides a spectacular space for special events. Here you have a 2400 sq. ft. conference room with a baby grand piano, rock fireplace, and a wrap-around deck overlooking an awesome view.
You will be so impressed by the dining patios that overlook the scenic Yale Valley with mountains in the background. Bistro tables and chairs on the patios seat at least 125 people. (Pictured above)
Reception Information
When planning for reception fare for your event and during your stay, you have 3 choices.
SELF CATERING: Do you want to provide and serve your reception meal using volunteers, family,  friends, etc.? For self-catering volunteers prepare and serve all meals. (No fair purchasing your dishes from a restaurant or caterer. That isn't self-catering)
PREFERRED CATERING:  Would you like to use a catering company that is familiar with Anderson Lodge and comes with rave reviews from past clients? Our preferred caterer can provide Grand Buffets, BBQ Buffets, Themed meals, brunches, Scandinavian Smörgåsbords, appetizers, dessert bars and more. Plus, our preferred caterer is a great resource for wedding decor/supplies and has oodles of experience with events at the lodge.
Our preferred caterer has been to the lodge many times and catered events.  They come highly recommended.  They have knowledge of traffic flow and will be able to help you plan your event.  During your stay, they are able to help with lodge use as well as provide fabulous wedding fare. Let us know if you are interested in using our preferred caterer, we will provide you with contact information.
PREFERRED CATERER:
Five Star Catering
Cindy Blixt
The caterer we recommend is experienced and can provide lovely buffets, full service dinners and meals that are specific to your needs.  You want quality meals, artistic presentation and a worry-free spectacular event.  Our preferred caterer comes with years of experience doing just that!  You are in direct contact with your caterer to customize your meals to fit your needs.  All deposits, service options, menu planning, gratuities and payments will be made directly with your caterer. You can count on her to prepare and serve meals following all Covid safety regulations.
OUTSIDE CATERING: Do you have a specific caterer in mind that you would like to use for your event? Outside catering also applies if you are purchasing prepared food from a restaurant or caterer and your family/friends are serving this prepared food. Caterers are able to use our commercial kitchens but are responsible for cleaning the entire area and wash all dishes upon departure.
Our fully equipped kitchens are available should you wish to provide your own meal. Commercial appliances, large serving dishes, china, flatware and all the tables and chairs are provided for you.   A $150 kitchen fee is charged for each day of your rental.  If you self-cater or use one of our preferred caterers for your main event meal, this is the only kitchen fee.  If you choose an outside caterer, the $150/day kitchen fee applies as well as an $200 outside catering kitchen fee.
Outdoor events are enhanced by the spectacular stone patios at Anderson Lodge. Our patios have bistro tables and chairs, seating 100+ people. Guests will be immediately impressed with the panoramic views. The custom outdoor beverage bars overlook the patios. What a wonderful space to entertain your guests! 
You will be dazzled by our stunning outdoor stone patios and the popular beverage bars!.
This beverage service area has a refrigerator and freezer and wood plank serving bar.  Whether you are setting up an appetizer service or offering your favorite beverages for your guests, this unique bar will put a smile on everyone's face!
Nestled in the heart of luxurious forest land is a charming lodge
offering a perfect site for indoor or outdoor weddings and receptions.
You owe it to yourself to make your wedding a truly momentous occasion.
Call us to arrange an appointment for viewing.
Make Anderson Lodge a part of your special day!
Anderson Lodge
Where natural beauty is the icing on the cake!